Welcome to the sixth episode of the SpiritWoke Podcast! On today's show, we're joined by Christine and Brendon of Spirit Radical. On this show,  we're talking about spiritual awakenings, energy healing, and how you can incorporate roses into your daily self-care routine.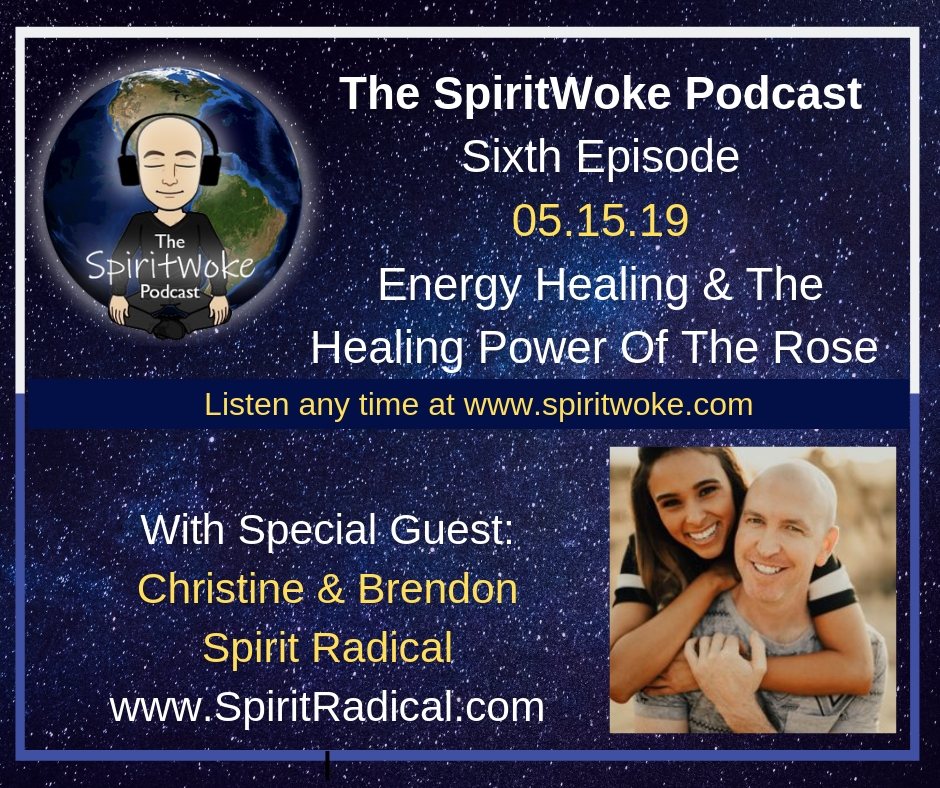 For those of you working on healing yourself, this is a "must listen to" cast.
Also, if you'd like to enroll in Spirit Radical's Rose Above class, they're offering a special 25% off promo for SpiritWoke podcast listeners. Simply visit https://www.RoseHealingClass.com and enter promo-code SPIRITWOKE25
Offer expires on 5/31.
Spirit Radical Bio: Christine and Brendon are twin flames and an Aussie-American husband-and-wife team. They own Spirit Radical where they teach people how to discover their own inner healer and develop their intuitive psychic abilities.
They share their 25 years of collective experience in spiritual development and the healing arts to help transform others into living life with more freedom, personal empowerment, and purpose.
Big thanks to our extremely talented Podcast producer, Nick Perko/Botanicus
Connect with Christine and Brendon at https://www.spiritradical.com
If you'd like to be on the podcast, drop us a line on our contact page and pitch us your story/idea.
More about rose healing directly from Spirit Radical,
The Rose Healing Ceremony, an ancient shamanic ritual from Mexico, is a powerful healing tool for physical ailments, emotional issues, negative thoughts and spiritual blocks. The rose is the Virgin Mary's flower, otherwise knows as Virgen de la Guadalupe, the patron saint of Mexico.
In this episode, we're talking about how you can incorporate roses into your daily self-care routine. We're also talking about what it's like to work with your twin flame and what our healing and spiritual journey has been like.

P.S. Interested in learning how to do a proper Rose Healing Ceremony for you and your loved ones? Listen until the end for an exclusive, limited time offer to our new Rose Above class!