Whether it be the Area 51 storm, recent Navy pilot UFO sightings, or the plethora of television shows dedicated to alien/UFO history, aliens and UFO phenomena are two of the most popular mainstream paranormal topics of the day.
On this episode, Dave Schrader joins The SpiritWoke Podcast, to give us his perspective. Dave shares his thoughts on whether aliens exist. If they're multi-dimensional beings and/or from other planets. Government coverups. Alien abductions. And so much more.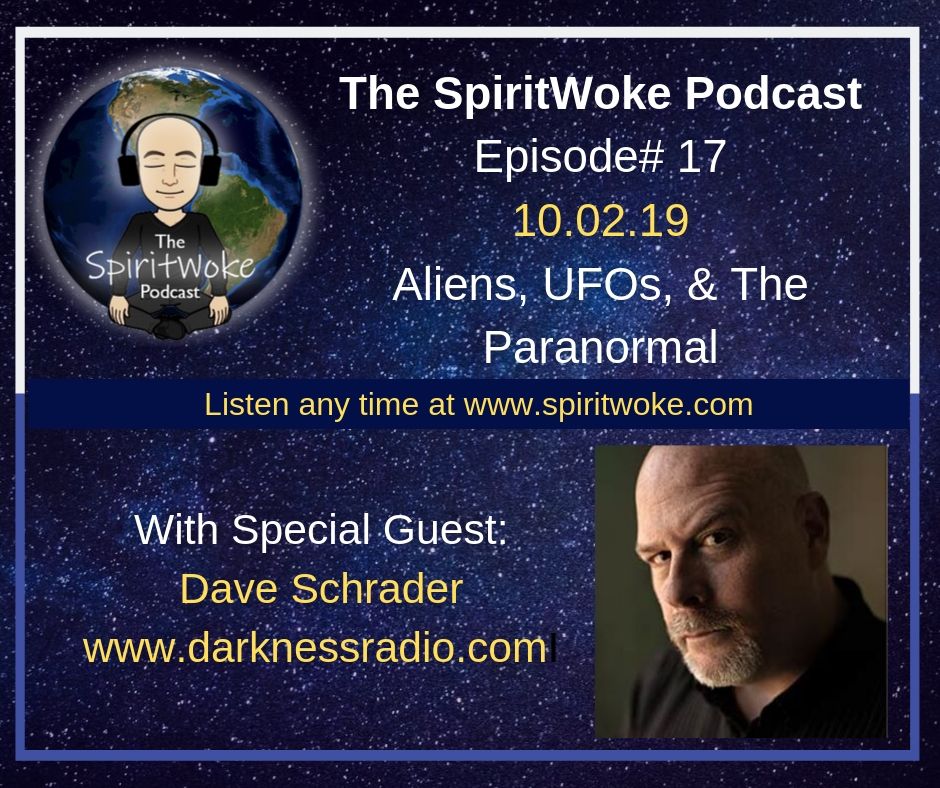 Dave's Bio:

Dave Schrader is a long-time radio show host that delves deep into the realms of the strange, fringe and bizarre in the paranormal field.
Dave and co-host Tim Dennis started off with Darkness Radio in 2006, which grew into a widely popular radio show. He became a regular fill-in host for George Noory on Coast to Coast AM that is heard world-wide with millions of listeners.
Dave now hosts Midnight In The Desert, formally hosted by the radio legend Art Bell on Dark Matter Digital Network along with Darkness Radio Presents: BEYOND the DARKNESS on PodcastOne and True Crime Tuesday on Patreon
Dave co-wrote the book The Other Side: A Teen's Guide to Ghost Hunting and the Paranormal, was the lead judge on the Travel Channel hit mini-series Paranormal Challenge and has appeared on Travel Channel's #1 series, Ghost Adventures 6 times and Paranormal State on A&E.
Check out Dave's podcast Midnight In The Desert http://midnightinthedesert.com/.
Big thanks to our extremely talented Podcast producer, Nick Perko/Botanicus