Carrie Kohan is an international best-selling author and world-renown spiritual coach. In Carrie's book, the Five Lessons of Life, she recounts her journeys through two near-death experiences (NDEs) and the five lessons learned while on the "other side".
Join Carrie as she shares her story of life, death, and rebirth! Also, don't miss Carrie's session at SpiritWoke Summit 2020. Get your tickets here. This podcast will give you a fantastic overview of the 5 lessons. In Carrie's session at the Summit, she will how to apply the principles of the 5 lessons in your own life, and how to live your ultimate dream. You'll discover how to tap into your own untold potential – while entering into your purpose-filled life!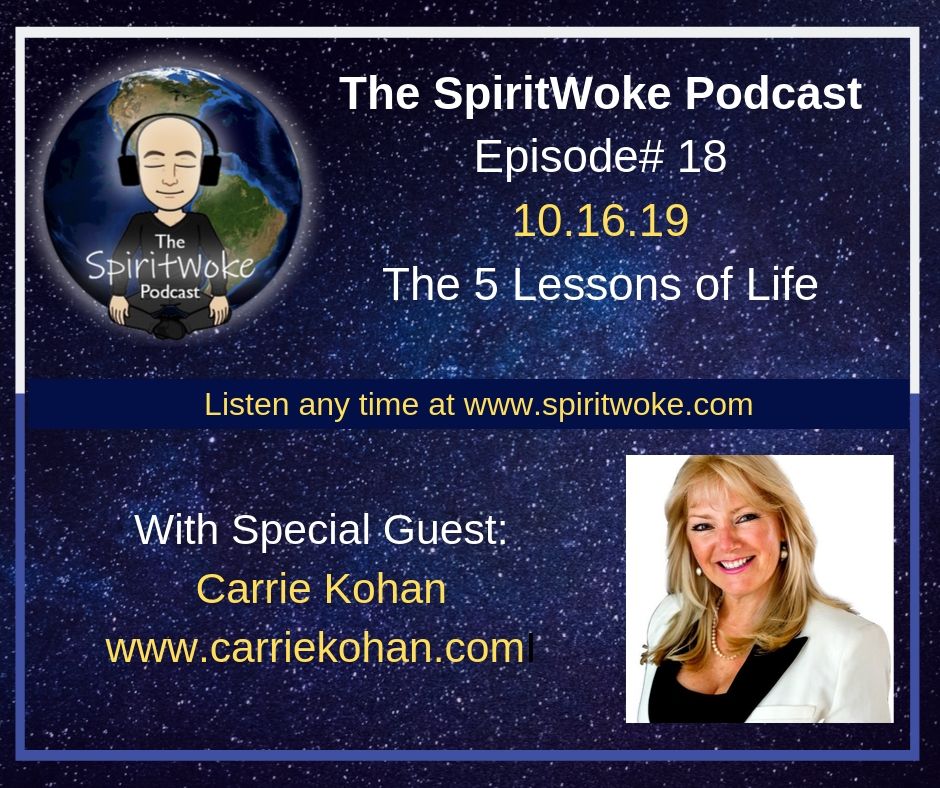 Carrie's Bio:
Carrie Kohan is a modern-day spiritual messenger whose written words have touched the world in profound ways. Carrie is Native Canadian (Metis, both Cree and Ojibwe) and has spent much of her life seeking answers, spiritual enlightenment and growth.
Carrie experienced two deaths in 1992 and '93 which are the basis of your book… where she had her subsequent Conversations with both Creator and the Counsel of Men.
Check out Carrie's website https://www.carriekohan.com
The book that emerged from those encounters 'The Five Lessons of Life' is now available in 11 countries via Amazon; with Target online, and several bookstores are picking it up now such as Munro's Books in Victoria, BC. The 5LOL has become an International Best Seller! And remains #1 and #2 on Amazon's Top New Releases! And is #10 in the Gift Idea List – for over 24 weeks now!!! The Five Lessons of Life has touched countless lives for the better!
As a Spiritual Soul Coach, Carrie Kohan has worked with over 10,000 clients 1:1… Especially those wanting to take their lives to the next level – personally, emotionally and financially.
Whether you want to say goodbye to old patterns, habits, fears, self-sabotage, doubt, or any sense of unworthiness… Carrie can help you let go with ease and grace, and say hello to your New Ideal Self – The Unstoppable YOU!
Let Carrie help you with her proven techniques and programs that have literally transformed 10's-of thousands of lives since 1993! We'll take you from the feeling of being lost or trapped to the person you always knew you could be – but just didn't know how to get there!
Carrie will get straight to the cause of any blocks which have held you back from your ultimate success! And through her original and unique programs – such as TFP – Trans Future Pacing; the 5 Lessons of Life; Empath-Warrior's 7 Steps; and The Infinity Method… Carrie Kohan will help you soar once and for all!
Often people come to Carrie as a last resort! They've tried all conventional coaches, mentors, therapists, or have even taken medications to mask their emotional pain… They are ready to take charge and change their lives! They just want to let go of all the crap from their past and move on! Often, they don't know WHAT it is that's holding them back – they just want it gone! They strive for a healthy body, mind, soul, career and relationship(s)! And Carrie helps them get there! FAST!
Big thanks to our extremely talented Podcast producer, Nick Perko/Botanicus